KHROMAGICK
KHROMAGICK is a Third Person Fantasy Adventure game where you explore an alien world using light and shadow magick.
Please note that the game is still a prototype, minor bugs may occur and most in-game UI will not reflect the final design.
Synopsis
In a planet torn by a cataclysmic phenomenon of ages past, you take the role of a spiritual wayfarer akin to nature, as your path becomes entwined with the fate of the world by a mysterious curse which extinguishes the life on whoever carries its bewildering mark.
Accursed and forsaken, you'll begin a journey to save yourself, as this world divided between light and shade depends upon your own fate; what outcome will follow, that's for you to find out in Khromagick.
Gameplay
Play as Tarek/Malek as you explore the alien world of Makha/Mawan
Use your abilities to overcome the challenges
Cast magick spells as part of your character's inner skills
Unravel the truth behind the shadeling arrival on Makha
Inspired in The Legend of Zelda series and Shadow of the Colossus
Controls - Gamepad (PS4 Controller) / Keyboard & Mouse
It's strongly suggested to play with a gamepad in order to get a smooth experience.
Move / swim: [Left Stick] / [W][A][S][D] keys
Orbit camera: [Right Stick] / Hold down mouse [Right Button]
Zoom in-out camera: / mouse [Wheel] up-down
Action (Submit dialog, open doors, etc.): / mouse [Left Button]
Jump: / [Space] key
Focus (object, creature, enemy): [L1] / [F] keys
Magick Cast: Light Spell / [Q] key; Shadow Spell / [E] key
Toggle First Person View: [R1] /
Open Inventory: [Options] / [Tab] key
Pause: [Share] / [Esc] key
Features to be added shortly
Improved UI graphic design
Mission implementation full cycle (in order to finish the current game)
Enemy AI is a WIP (used ICode but now we're implementing our own agent steering and behaviour model)
Add SFX to the character's movements and other interactions
Migrate to Unity HDRP or Universal RP
Install instructions
Just download and unzip the folder in the location of your choice. Inside the game's folder double click KHROMAGICK.exe or select the file and hit [ENTER] on your keyboard to launch the game.

Minimum System Requirements
OS: Windows 7 / 8 / 10
Processor: 1.7 GHz Dual Core or Greater
Hard Disk Space: 300 MB
Graphics Card: 1GB RAM DirectX 9.0c compatible graphics card (shader model 2)
System Memory: 4GB
Mouse and keyboard or gamepad (tested with PS4 controller)
Download
Download
KHROMAGICK_v0.2.5_win_x86-64.zip
74 MB
Comments
Log in with itch.io to leave a comment.
how do you exit the first room?
Hi Loris, to exit the first room just step your character in front of the blue door and wait for the context Open to popup (on the top right corner, the Left Context Circle) and press the Action Button.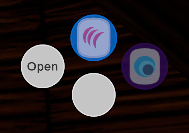 Hope it helps and thanks for (trying) the game. Let us know if you still playing and if you have any other questions, please write down.

Cheers